Used Lancia On Finance
lancia is car manufacturer from Italy. Currently there are 2 models on our website. There are 5 used cars from lancia which you can buy by finance. Most popular model is Delta
View All Lancia models
Body: Coupe
Color: Silver
Fuel: Petrol
Transmission: Manual
Mileage: 64,000
Doors: 2
Here is an impressive 2 door second hand car coming with a Manual 2.5L engine, available in a glowing colour of Silver. This car takes Petrol and has 64000 on the dashboard. If you want to become the next proprietor of this fantastic motor then get in touch with the knowledgeable purchasing team at Different Class Cars as you can be utilising the astonishing credit arrangements that are on offer with instalments starting at £343.17 per calendar month.
Transmission: Manual
Mileage: 47,000
Doors:
Rediscover driving in this door car coming fitted with a cc motor, Manual transmission and 47000 miles clocked up on the dash in a shade of White. Want this Fulvia Manual for £310.29 monthly? Sign-up on the internet right away.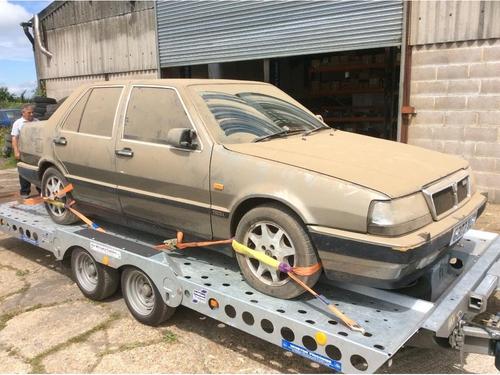 Body: Saloon
Color: Silver
Fuel: Petrol
Transmission: Manual
Mileage: 117,000
Doors: 4
Not to be missed! This superb motor with a Manual transmission and a Petrol, 2.0L engine, which is available in a sleek shade of Silver at an awesome cost of £3,895. Contact us by telephone for more info. This car comes with the option to buy on finance starting from only £89.86 a month. Apply via the web on the car dealer's website now to find out what your monthly repayments might be.
Body:
Color: Yellow
Fuel: Petrol
Transmission: Manual
Mileage: 33,000
Doors:
This specific Lancia Delta Hatchback painted in the amazing Yellow colour is offered immediately, to get with finance beginning from £922.69 pm. Send an email to the seller now to get more info about test driving this Lancia Delta Hatchback.
Body:
Color: Red
Fuel: Petrol
Transmission: Manual
Mileage: 65,000
Doors:
To be experienced by the next keeper, this magnificent door Lancia Delta Hatchback has a Petrol CC engine and a Manual transmission, in a vibrant colour of Red and has 65000 miles on the dash. To benefit from this unbelievable bargain, our sales team members are at hand to be of assistance at our dealership. Get in touch with our sales team for a more in-depth discussion about this quality car.
Showing 1-5 of 5 items.